Schools
Thought-provoking and inspiring performances stimulate creative conversations and leave lasting impressions on young minds.
School groups
It's not just adults who can get involved in Darwin Festival. Take a trip to the Festival and give your students an invaluable lesson by attending one of our school performances.
Information about our school performances will be released here in mid 2021. Should you wish to further discuss bringing a school group to a Festival show please call 08 8943 4200.
We also have a Schools Advisory Committee to assist with planning and advertising our schools performances. If you are a teacher in the Northern Territory and would like to be involved in the Committee please get in touch.
Artists in schools
Each year we take selected guest artists off the stage and send them back to school as part of our Artists in Schools program.
In 2020 we were unable to do that, but instead Darwin schools can take part in Fly Me Up To Where You Are.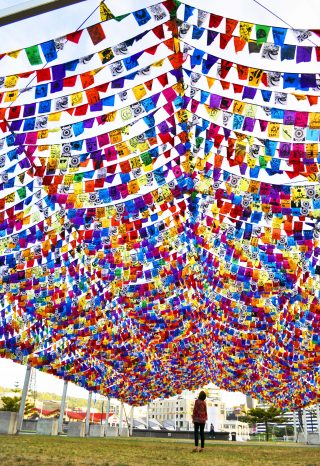 Fly Me Up To Where You Are – New Zealand Festival
This hands-on conceptual art project from New Zealand artist Tiffany Singh seeks to inspire and empower young people. Primary, middle and high school-aged children from all over Darwin were invited to create one of 5,000 unique dream flags. Inspired by Tibetan prayer flags, each dream flag contains an image or message expressing the students' thoughts, hopes and dreams for the future. These flags were created in schools during the 2020 Festival and will be hung together and displayed in a stunning large-scale community art installation as part of the 2021 Darwin Festival.
Fly Me Up To Where You Are is a celebration of young people in the Northern Territory. It offers a chance to really value our younger generations and teach them to identify their hopes and dreams. Giving students the encouragement to fulfill their wildest imaginations is critical for us to grow and develop as a nation.
Read some of our project updates here. If your school would like to be involved please email hello@darwinfestival.org.au
Fly Me Up To Where You Are proudly supported by